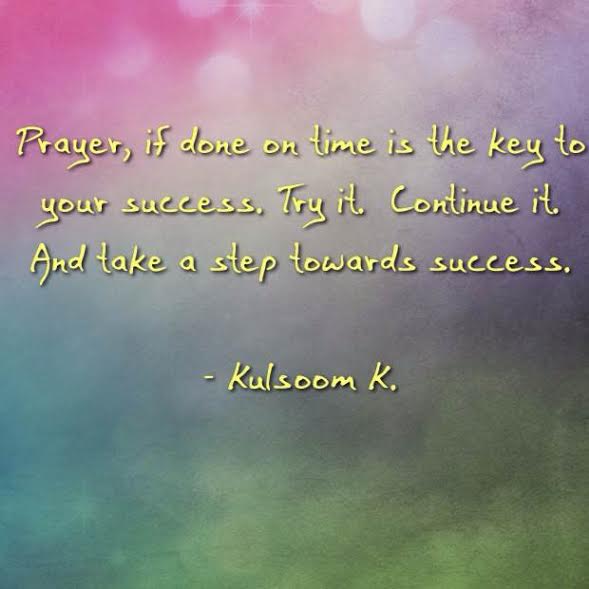 Written by: Kulsoom Kazim
Allah says in the Quran, "And the Prayer is a difficult matter except upon those who fear Allah, who are certain that they will meet their Lord and return to Him" [Quran: 2: 45 – 46]
Have you ever thought about why prayer is difficult for us anyways?
If you haven't, then perhaps it's time. Remember – the first thing you will be asked about when you die is your salah.
It's said that if you average out 5-10 minutes for each salah, you're really only spending around 1 hour praying to Allah. Out of the 24 hours you are given, Allah is only asking you for 1 hour of your time – not even close to the time we should be spending worshipping him.
If you're feeling guilty at this point, that's good. Let change happen. If you're not, then ask yourself if you want to give up eternity in heaven for 1 hour of forgetfulness each day.
Here are some tips that can help us get started on our prayer.
1. REALIZING THE PURPOSE OF SALAH
We have to become conscious of Allah and remember Him in our daily activities so He remembers us.
2. PLAN YOUR SCHEDULE AROUND YOUR PRAYER –  NOT YOUR PRAYER AROUND YOUR SCHEDULE
Enough said. You have to give Allah priority. Fight laziness and procrastination.
3. BE PHYSICALLY READY
Fulfill your physical needs well ahead of prayer time so that there are NO excuses. I.e. hunger, sleep, thirst, bathroom use. Try praying in a pure physical state.
4. INTENTION
Remind yourself of the intention behind prayer. Just like you NEED food when you're hungry, or you bathe when dirty, you need to communicate with Allah to relieve the burden this life offers.
5. SEEK REFUGE FROM SHAYTAAN
Remember that the only thing Shaytaan wants is for you NOT to worship Allah and he will try every way possible so SHUN anything or anyone that stops you from praying on time.
Lastly …
DECREASE YOUR SINS.
It's likely that you're burdening your self with countless sins so relieve your self of that burden and enlighten your soul with the feeling you get after completing a prayer with full attention.
TIP: Try creating a list after you read this and following through with it. I guarantee it'll help.
Allah says: "Out of all the ways through which My servant gets closer to me, Salah is the dearest to Me" [Bukhari]