Regular Prayers:
The Scott Religious Centre is also still open for all students to pray in at times when the Chapel is booked by the MSA. Muslim students will now be able to pray in the Scott Religious Centre and soon as well, in the new student centre. Important announcement regarding Friday prayer for the month of December 2018:Starting next week, we will be holding only 1 Jummah at 1.30pm until Dec28th Inn Sha Allah.For the 21st and 28th Dec Fridays, jummah will be held in chapel of Scott Religious Centre (SRC) since Second Student Centre (SSC) is closed during holidays.
There is a multi-faith prayer room on the south-east corner of the second floor of the Stephen E. Quinlan Building a.k.a. Seneca@York (Building # 40 on the campus map). The room is open so long as Seneca is, which on most days between 7AM and 10PM.
---
Jumu'ah Prayers:
We have Friday congregational sermons and prayer every week, Fall, Winter, and Summer semesters except for exceptional circumstances. TPlease consult the website and Facebook page for updates on the schedule.
Fall Jummuah Prayer timing
| Date | START TIME | LOCATION |
| --- | --- | --- |
| October 26 | 1:30 PM | Congregation room at SSC |
| October 26 | 2:30 PM | Congregation room at SSC |
| November 2nd | 1:30 PM | Congregation room at SSC |
| November 2nd | 2:30 | Congregation room at SSC |
| November 9th | 12:30 | Congregation room at SSC |
| November 9th | 1:30 PM | Congregation room at SSC |
| November 16th | 12:30 | Congregation room at SSC |
| November 16th | 1:30 PM | Congregation room at SSC |
| November 23rd | 12:30 | Congregation room at SSC |
| November 23rd | 1:30 PM | Congregation room at SSC |
| November 30th | 12:30 | Congregation room at SSC |
| November 30th | 1:30 PM | Congregation room at SSC |
| December 7th-Dec 28th | 1:30 PM | Chapel at SRC |
Scott Religious Centre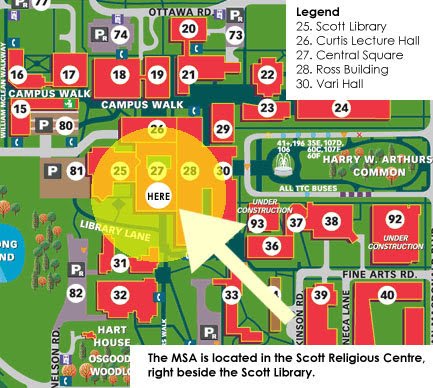 Address: Prayer Space: Scott Religous Centre- 2nd Floor
Muslim Ablution Facilities: Available on 2nd Floor (Separate Facilities for Brothers and Sisters)