Bows&Arrows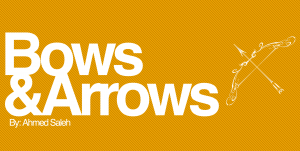 Author: Ahmed Saleh
I hope this message reaches you in an excellent state of health and imaan. This article is primarily a reminder to myself.
All praises are due to Allah, the Most Gracious, the Most Merciful, and only the mistakes have been mine.
———————
Check this.
12:34. Time for Dhuhr. The Athan goes off. Straighten the lines.
It's still 12:34. 1 meter away from the congregation of Muslim students, on the other side of the room, four non-Muslim students are sitting in a circle, previously socializing now ready to begin their spiritual session.
"Bismillaah ar-Rahman ar-Raheem"
One non-Muslim student leads the other three in a foreign language. On the other side of the room, the Muslims have begun their prayer.
"Allahu Akbar"
The prayer voices among the 4 non-Muslim students simultaneously reach crescendo.  Despite this, the Muslims continue:
"Sami' allaahu liman hamidah"
The prayer voices are at full blast. Foreign hymns collide with the eternal chatter in our brains. Our physical presence is now like a ship in a storming sea, our conscious struggling and scrambling to put up our sail of sincerity towards Allah Subhana wa Ta'ala. We squint our eyes and hearts, hoping that just maybe; it shall isolate the foreign hymns and align us with our connection to Allah Subhana wa Ta'ala.
"Allahu Akbar"
The voices are thriving but not as loud. Putting our head to the ground, feelings of anxiety climbs up our spine out of fear of breaking the Divine connection, but still we prepare to meet our Creator as we submerge ourselves into sujood.
"As Salaamu 'alaikum wa rahmatulaah"
The unfamiliar voices cease. Our hearts are screaming Alhamdulillah and Astafirugallah all at the same time. Some of us continue with our personal dhikr. Some of us curse and kiss our teeth at the four students. Some of us wish we could have our own prayer center. The medium-sized Jamaa, within a few seconds after salaat, has exploded into a wide spectrum of emotions in response to the "distraction".
Distraction.
From a distance, the man saw the figure of 'Abbad ibn Bishr silhouetted at the mouth of the valley and he knew that the Prophet and his followers must be inside the valley. Silently he drew his bow and let fly an arrow. Unerringly it embedded itself in Abbad's flesh .
Calmly, 'Abbad pulled out the arrow from his body and went on with his recitation, still absorbed in his Salaat. The attacker shot a second and a third arrow both of which also found their mark. 'Abbad pulled out one and then the other. He finished his recitation, made ruku and then sujud. Weak and in pain, he stretched out his right hand while still in prostration and shook his sleeping companion. Ammar awoke. Silently, 'Abbad continued the Salat to its end and then said: "Get up and stand guard in my place. I have been wounded."
Ammar jumped up and began to yell. Seeing them both the attacker fled into the darkness. Ammar turned to 'Abbad as he lay on the ground, blood flowing from his wounds.
"Ya Subhanallah (Glory be to God)! Why didn't you wake me when you were hit by the first arrow?" "I was in the midst of reciting verses of the Quran which filled my soul with awe and I did not want to cut short the recitation. The Prophet had commanded me to commit this surah to memory. Death would have been dearer to me than that the recitation of this surah should be interrupted."
Everyday at York University at the Scott Religious Centre, we face the challenge of praying in an area that allows other worships, whether loud or silent, to occur simultaneously. Without a doubt, it has become for difficult for Muslims to establish prayer without excessive noise. But we must not complain and become intolerant; instead we should look into the legacy of the Sahaba. This is no easy task, but we must not be discouraged.
But really brothers and sisters, without further analysis and explain, after reading about 'Abbad, should we still complain? Do we even have the right to complain? If 'Abbad was able to pray with arrows in his body, how can we ever complain of a bunch of students distracting us during prayer? Do you have arrows in your flesh during prayer? Even if so, shall you stop praying?
'Abbad didn't.
Raise the standards of your khushoo' in salaat. Raise the standards to the point where, no foreign hymns, not even arrows can hinder your spiritual state of mind during salaat. Let your salaat be like an arrow, seeking a destination without interference from external forces.
The human species has been given the ability to speak. Our mouth and tongue are guards to the human voice so if anything leaves your mouth, let it be beautiful, simple and elegant.
If people are misguided, do not mention them in a bad tone, rather ask Allah to guide them.
Times may be hard, but always remember, your salaat is like an arrow, a force to be reckoned with.
Allah alone gives success.
May Allah increase us in patience.
May Allah grant us sincerity in salaat.
May Allah bestow us guidance in this life.