The Power of Dua
Author: Kinza Asad
"It is the weapon of the believer,
the tool of the one who worships Him truly,
it is the salvation of the heart, it is the softener of the heart,
it is the thing that removes the black spots in the Qalb (heart),
it is the wetness and tears that softens it,
nothing will bring peace, happiness and tranquility to the heart of the one in the most
distress, except Dua." (Jalal Ibn Saeed)
Being raised i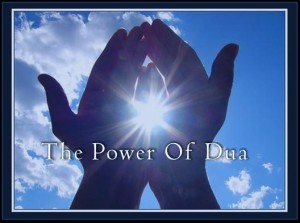 n a Western country Ali never thought of himself as any different from his peers. However, his parents would always tell him that if he wanted something dearly then he should first make dua to Allah (Subhanahu Wa Ta'ala) before doing anything else. Ali never understood why he would ask Allah (Subhanahu Wa Ta'ala) for things when his parents were well able to provide them for him. He never understood the point of asking Allah (Subhanahu Wa Ta'ala) when he could simply ask his parents to guide him and give him what he wanted. His answers were always found through his parents, so why take the extra time and ask Allah (Subhanahu Wa Ta'ala)? His parents would constantly remind him that dua is a form of openly affirming his faith and belief in Allah (Subhanahu Wa Ta'ala) and only Allah (Subhanahu Wa Ta'ala) can listen to and answer his prayers. Ali thought that he was happy with his life, he prayed, fasted, and gave in charity. So in return, as long as he did his part, he should be blessed in his life as well.
Ali was done university; it was time for him to step into the real world. He was sure that with his good marks and experience he would definitely get the dream job which he always longed for and why wouldn't he, he worked hard and with his hard work he deserved everything. Then the day of his interview arrived. His parents asked him if he prayed to Allah (Subhanahu Wa Ta'ala) to help guide him in achieving his goal. This question made Ali confused. He replied that the job would be his for sure because he was fully qualified for it and that if he wanted something for the Hereafter or wanted to ask for forgiveness then he would turn to Allah (Subhanahu Wa Ta'ala), not for something like a job which he would get from his own merit and hard work.
That night Ali came home distressed, he had not gotten the job and could not understand how such a thing could happen. His parents sat him down and decided to give him some adice. They told him that Allah (Subhanahu Wa Ta'ala) is the Creator, it is through His Power and Mercy that things happen and without His help nothing can be done. They shared with him the story of their struggles with childbirth. They had prayed to Allah (Subhanahu Wa Ta'ala) greatly for children. They had prayed day and night and even when doctors had said that it was not possible, they never lost their trust and hope in Allah (Subhanahu Wa Ta'ala). However, after much dua Ali had come into their lives and they were grateful for such happiness. They told him that the Prophet (SAW) said: "There is nothing that is more noble in the sight of Allah than dua." (Abu Hurayrah)
Ali decided to change his ways; whether he wanted something in this world or the in the next he would remember to always ask Allah (Subhanahu Wa Ta'ala) first and foremost. As it says in Surah Ghafir: "And your Lord has said: Make dua to Me, I will respond to You." (60)
Making dua is something that we often tend to bypass. Are we not aware that with the right intention and a sincere heart that Allah (Subhanahu Wa Ta'ala) will surely accept our duas? If we ask for something that is not right for us, Allah (Subhanahu Wa Ta'ala) will definitely grant us something which is better in this world or in the Hereafter. At times we often hate a thing which is good for us and love a thing which is bad for us, but surely Allah (Subhanahu Wa Ta'ala) knows best and under His guidance nothing wrong can happen as He will never put us through something that is beyond our scope. Sometimes, we don't know where a decision will lead us, yet we tend to take the risk and make dua because we believe and put our trust in the Wisdom of Allah (Subhanahu Wa Ta'ala) and His Power and His Plans. As it is mentioned in the Quran:
"… Indeed, Allah loves those who rely [upon Him]." (3:159)
The Prophet (SAW) said:
"Verily, the person who does not ask Allah, Allah gets angry at him." (Al-Tirmidhi)
Besides making one more optimistic, making dua has many benefits. A sincere dua opens the heart and builds a new relationship with Allah (Subhanahu Wa Ta'ala). At the same time it increases our iman (our level of faith), and our love for the Creator. If we really want something, then Allah (Subhanahu Wa Ta'ala) Himself tells us of a time when He is listening, but how many of us actually remember to ask Him when He comes down to the lowest heaven to hear our supplications? He is willing to hear us and wants to fulfill our duas. But how many of us make the effort to actually ask sincerely, expecting the best in return?
"Our Lord descends to the lowest heaven when a third of the night remains, saying: Who is supplicating to Me that I may answer him? Who is asking of Me that I may give him? Who is seeking forgiveness of Me that I may forgive him?" [Sahih Al-Bukhari and Muslim]
"Indeed, Allah is Shy and Beneficent. He is Shy when His servant raises his hands to Him (in a dua) to return them empty!" (Ahmad, Abu Dawud, Al-Tirmidhi)
Abu Hurayrah reported that Prophet (SAW) said:
"The closest any worshipper can be to his Lord is while he is in prostration, so increase your duas in it" (Muslim, Abu Dawud, Al-Nasai)
So why wait? Let us raise our hands, praise the Almighty, and keeping humility along with fear and love for our Creator, make dua and expect the best from Him. He who has bestowed us with so much and yet is ready to hear us ask for more and give us what is best for us. We have to take the initiative as we need Allah (Subhanahu Wa Ta'ala) in every moment of our lives and a dua made with a sincere heart will never be rejected. We should not think that our duas will not be answered because of our sins, for surely He knows best and His Mercy is immeasurable. Remember, everything is prewritten but with dua and prayers things can surely be rewritten. So don't give up hope! If you really want something, no matter how hard it may seem to achieve it, remember that Allah (Subhanahu Wa Ta'ala) is always listening. Just make sure you do your part and then leave the rest to Him, the Creator, the Magnificent, the Most Merciful, the All-Hearing.